Critical Illness Insurance in Canada – What is it and How Does it Help?
Health Planning
Insurance 101
Personal Finance Planning
Nearly 1 in 2 Canadians is expected to develop cancer during their lifetime. Fortunately, 63% of Canadians diagnosed with cancer are expected to survive1.
Similarly, more than 90% of Canadians who experience a heart attack and more than 80% who have a stroke will survive after hospitalization2.
Medical advances today have drastically improved survival rates. However, despite an increase in survival rates, illness survivors still face challenges to recover and make positive lifestyle changes. Although our health care system covers the in-hospital medical expenses, it does not cover other treatment expenses and financial burdens such as home loans, outstanding bills due to loss of income and so on.
This is where Critical Illness Insurance comes to the rescue. It helps provide immediate financial relief in the form of a lump-sum, non-taxable amount that is paid out after the diagnosis and successful completion of the survival period as per your policy. This amount can be used however you deem appropriate and may help you:
Access private treatment
Cover expenses for a home caregiver and other day-to-day expenses
Supplement loss of income for you and/or your spouse
Cover mortgage payments and other outstanding expenses
Depending on the policy you choose, coverage is available for 10, 15 and 20 years or even longer time frames such as till the age of 75 years or even 100 years.
What illnesses are covered under Critical Illness Insurance in Canada?
Initially, Critical Illness Insurance in Canada would cover only the 4 major conditions i.e., – cancer, heart attack, stroke, and heart bypass surgery. However, today it covers over *24 major illnesses including:
Alzheimer's
Acquired Brain Injury
Aortic surgery
Brain Tumor
Heart Attack
Dementia
Kidney Failure
Coma
Paralysis
Cancer
Stroke
Parkinson's and more.
How long does it take to receive the benefits from your Critical Illness Insurance coverage?
Generally, a lump-sum non-taxable payment will be made to you 30 days after the claim has been approved. Once your claim is paid, your Critical Illness Insurance policy ceases.
Life Simpli can help you connect with an insurance advisor to give you free, unbiased, and personalized advice. 
What is the cost of Critical Illness Insurance in Canada?
The quotes for critical illness insurance depend on several factors such as age, gender, family history and lifestyle. To know how much critical illness coverage you would need, you can access our free insurance assessment calculator.
How is Critical Illness Insurance different from Disability Insurance?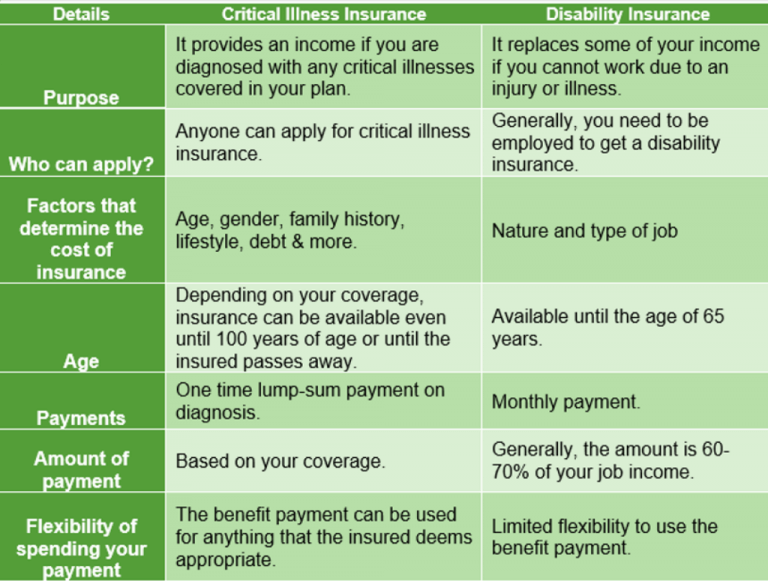 How is Critical Illness Insurance different from Life Insurance?
Critical Illness insurance is designed to provide you with immediate financial relief on the diagnosis of any condition included in your coverage.
Whereas life insurance is designed to provide your loved ones with financial protection after you pass away.
To sum it up, Critical Illness Insurance provides you with immediate financial relief so you and your family can focus on your recovery rather than worry about the income crunch.
Still have questions about Critical Illness Insurance? Read our FAQs or schedule your call with an insurance advisor today.
There are several insurance providers like BMO, ManuLife, CanadaLife, Desjardins, SSQ Assurance, Foresters Life and more that provide Critical Illness Insurance coverage based on your requirements. If you know what you need and would like to get started – Life Simpli can help you compare quotes from over 10 insurance providers and apply for critical illness insurance within minutes.
* Actual policy terms, including your premiums and coverage, are determined once we verify the information you provide and the insurer accepts your application for insurance. Refer to your policy for the most detailed and accurate information about your coverage and terms of insurance.
References
1Cancer statistics at a glance – Canadian Cancer Society
2Report on the health of Canadians – Heart & Stroke Foundation